1 event,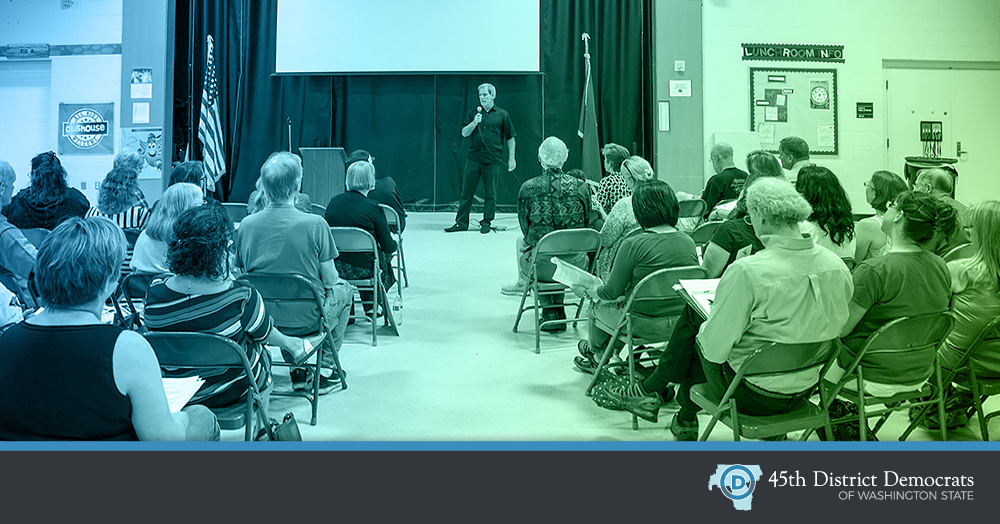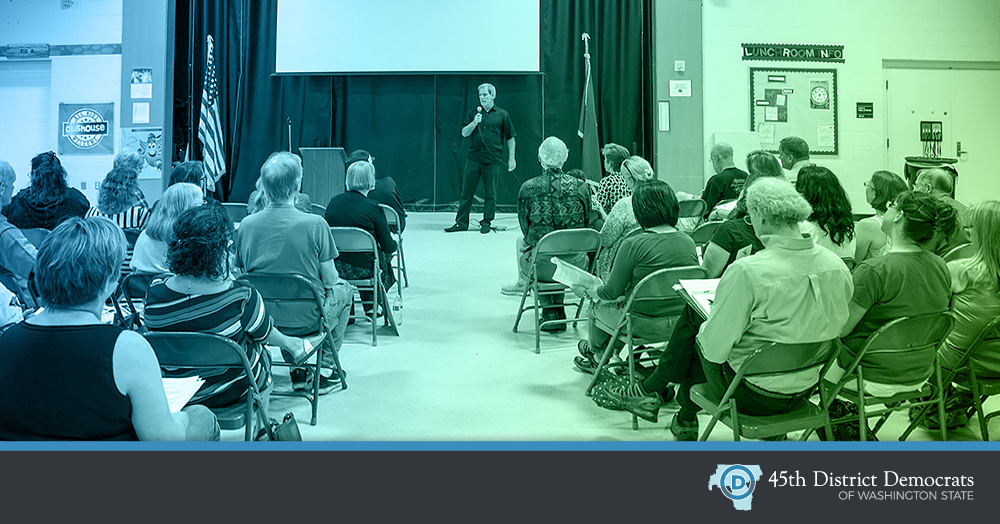 The first Wednesday of every month, the 45th District Democrats meet to hear from candidates and elected officials, make endorsements, discuss state and local issues, and conduct Democratic Party business.
1 event,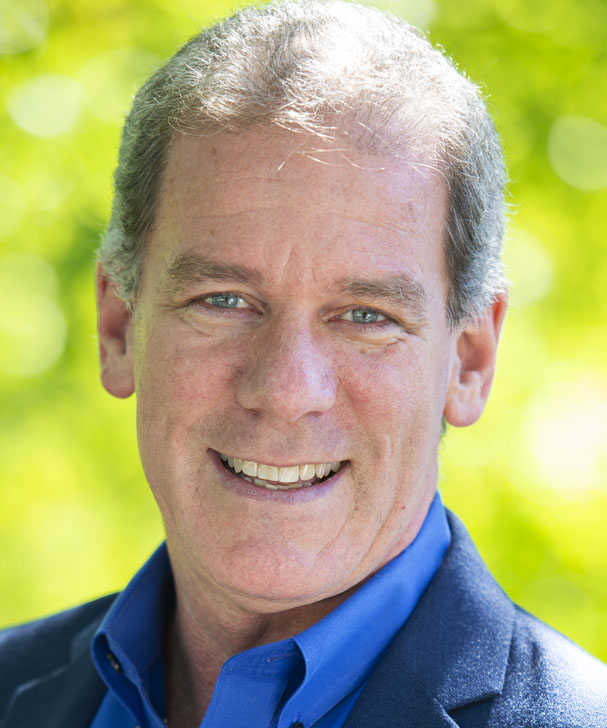 The Washington State Democratic Central Committee (WSDCC) is the body that conducts business for the Washington State Democratic Party. This Q&A will feature State Rep. Roger Goodman, who chairs the Public Safety Committee and is working on many police accountability bills.
1 event,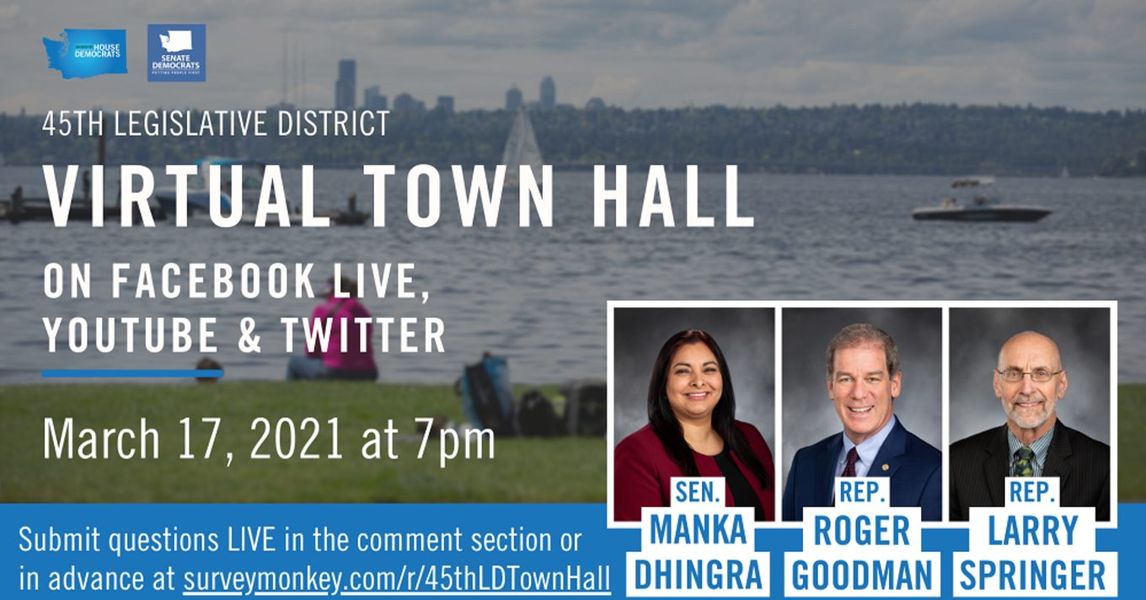 Join your 1st District legislators for a live virtual town hall on Facebook Live, YouTube, and Twitter. Sen. Manka Dhingra, Rep. Larry Springer, and Rep. Roger Goodman will share thoughts on their legislative priorities and answer your questions on the issues you care about. Submit questions ahead of time via this SurveyMonkey form. Or submit questions live during the event by leaving a question in the comment section on the platform where you're watching.
2 events,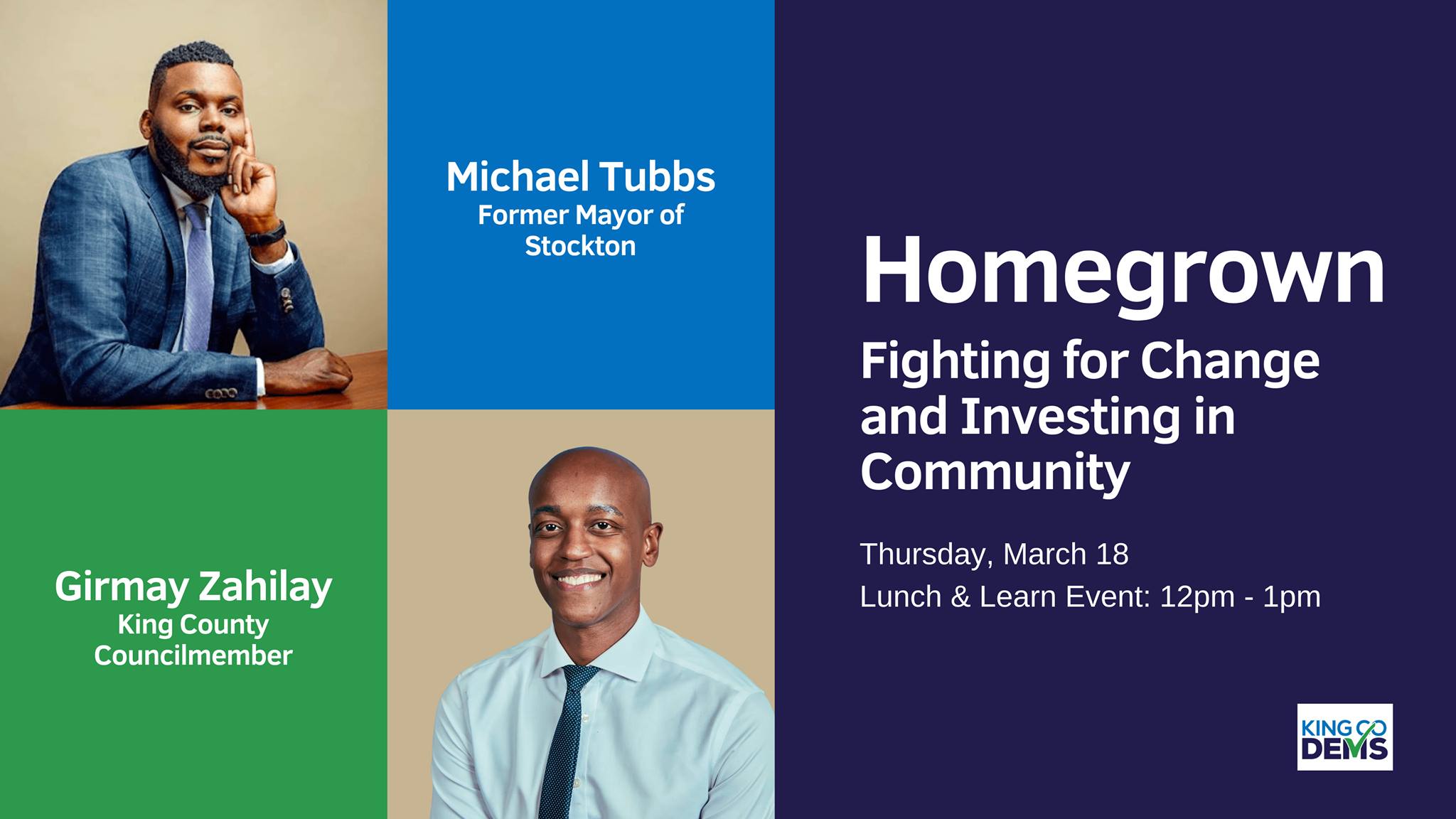 Join us to hear from the youngest Mayor of a big city and the youngest current King County Councilmember, both of whom have planted the seeds for change in their communities. Learn what it was like to run for and hold office as men of color, and learn about the Universal Basic Income (UBI) pilot program Former Mayor Tubbs launched in Stockton and how it will affect our communities. A paid "lunch & learn" event sponsored by the King County Democrats.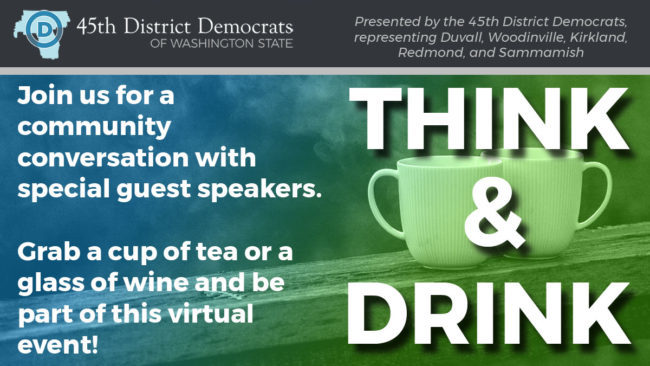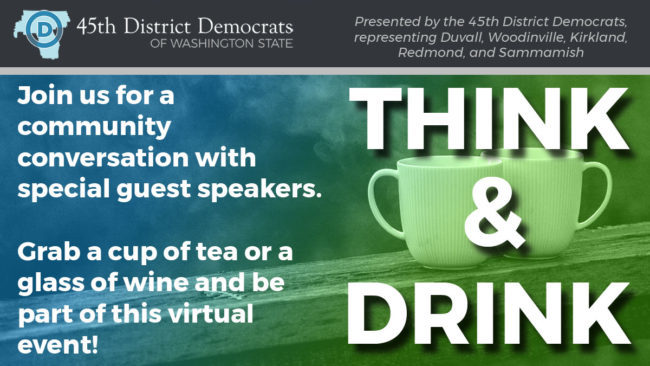 Think & Drink is an informal get-together for members and friends of the 45th District Democrats every third week of the month. Conducted over Zoom, we'll be discussing different topics of interest in a congenial, friendly setting, from the comforts of your home. This month's topic will be issues surrounding homelessness, lead by Alison Eisinger (Executive Director, Seattle/King County Coalition on Homelessness) and The Rev. Bill Kirlin-Hackett (Director, The Interfaith Task Force on Homelessness). Please use this Zoom link to enter tonight's event! https://us02web.zoom.us/j/88910175956?pwd=ejRJeDQxeU5jZHhrV3djak5MNUhQQT09
1 event,
Register at https://us02web.zoom.us/meeting/register/tZIof-mhpz0uGdHIU3HIclIiB3uiOungnMbP
1 event,
Register at https://us02web.zoom.us/meeting/register/tZMkde-pqTspE9fcyX57CYKPPmkLxtgAJbkS