Think & Drink – Candidate Forum starts at 6pm!
July 21, 2021 | 7:00 PM

-

9:00 PM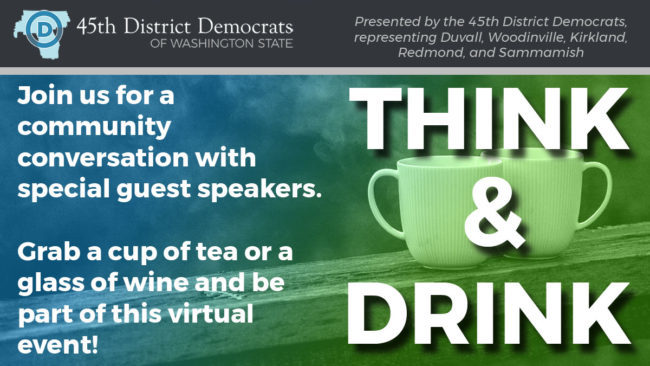 BONUS: Starting at 6pm, there will be a social hour with 45th endorsed candidates dropping in to chat.
Think & Drink is an informal get-together for members and friends of the 45th District Democrats every third week of the month. Conducted over Zoom, we'll be discussing different topics of interest in a congenial, friendly setting, from the comforts of your home. This month's topic will be a discussion of the ideas promoted by the Strong Towns organization which focuses on urban planning and making cities more walkable and human-scaled as opposed to designing everything around cars. Our lead guest will be an architect who is currently working on a big project in Redmond that uses these design principles. Visit www.strongwa.org as an introduction to these concepts.