2018 45th Legislative District Caucus
March 24, 2018 | 10:00 AM

-

4:00 PM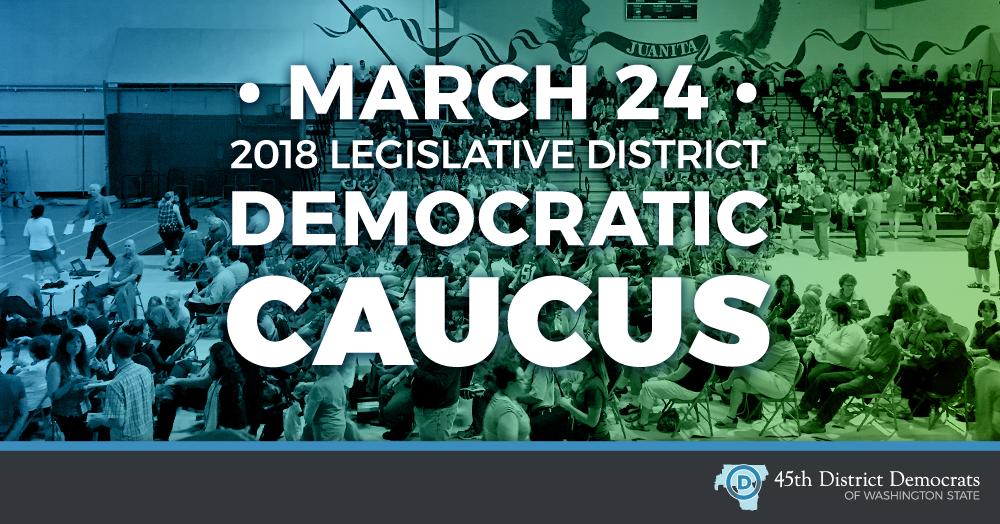 Midterm caucuses are coming! Join us to elect delegates to the state convention, adopt a platform, consider resolutions, and hear from candidates for office. This is your chance to help shape what it means to be a Democrat in Washington for the next two years.
---
FAQ
Who can participate?
Any registered Washington voter who considers themselves to be a Democrat and is willing to state that publicly may participate in the legislative district caucuses and the county conventions. Only official delegates and seated alternates will have a vote at the state convention, although others are welcome to attend and observe.
You must live in the 45th District to participate in the 45th's caucus. Confirm you live in the 45th and, if you don't, find your local caucus here.
17-year-olds who will turn 18 by election day, November 6, 2018, are allowed (and encouraged!) to fully participate and vote in the caucuses and conventions.
Votes to approve the rules, platform, and elect delegates will occur throughout the day; you must be present to vote. Proxy voting is not allowed. Review the full proposed rules document.
When does it start? When does it end?
Doors open at 9 a.m. for registration. The caucus program starts at 10 a.m. and voting will begin at 11 a.m. We have the room rented until 4 p.m.; we expect the program to be done earlier in the afternoon, but should the caucus run long, that is our hard deadline to adjourn and leave the building.
Even though this is not a presidential election year, there are several activities that must be completed for the caucus to be a success, so do expect to spend your day at the caucus.
Because this is a lengthy process, be sure you are prepared for any dietary and/or medical needs you may have, and bring any supplies you might need with you.
How do I get there?
Limited parking is available at Juanita High School. Please carpool if possible or take the bus. There are bus stops along NE 132nd St. and NE 124th St. Find your route.
Is there a fee?
The caucus is free to attend, but if you can make a small donation to help us cover the costs of this event, we'd appreciate it! Make a contribution.
How do you become a delegate to the state convention?
Delegates are elected in the legislative district caucuses by those attending the legislative district caucus. Those interested in running for delegate will have the opportunity to give a one minute speech to voters at the caucus on why they would be a good delegate. There will also be breaks in the program where you can mingle with other caucus attendees and ask for their votes.
Please only run for delegate if you can commit to attending the state convention in Wenatchee the weekend of June 16; we do not have funds for delegate stipends, unfortunately, so you must pay your own way.
Elected delegates will be balanced by gender, not including positions won by nonbinary people.
Why should I run for delegate?
The State Convention is an exciting place! If elected, you and another few hundred of the most active, engaged Democrats in Washington state will get together to shape the state platform, set rules and bylaws, talk policy, network, and hear from big names in state politics and the Democratic party.
How many delegates are there?
The 45th District has been allocated 11 delegates and five alternates to the 2018 state convention, in addition to six automatic delegates.
The automatic delegates are Ken Albinger, our chair; Cat Williams and Andrew Villeneuve, our State Committee members; and our Democratic legislators, Manka Dhingra, Roger Goodman, and Larry Springer. There will be a total of 400 elected delegates from across the state.
Are there other ways to get involved with the caucus process?
Yes! Caucuses are a great way to dip your toe into Democratic Party activism. There are all sorts of opportunities to volunteer, to contribute to our platform, and to submit resolutions. As an all-volunteer, grassroots organization, we love to see fresh faces, to hear diverse perspectives, and we can always use more helping hands.
You can also help us spread the word! Print out reminder cards to share with your neighbors or share our event on social media. We want people from every part of our community at our caucus.
Which candidates are attending? How do I get on the schedule as a candidate?
Rep. Larry Springer (D) is running for re-election and has confirmed he will speak. Sen. Manka Dhingra (D) is unable to attend but is providing a video message for us.
If you are a candidate or campaign manager and would like to speak or provide a video message, contact Dave Williams, Caucus Events and Logistics Committee Chair. Videos and prepared remarks should be kept to five minutes or less.
When and where are the caucuses and conventions?
Saturday, March 24, 10 a.m.: legislative district caucuses; the 45th LD caucus location is the Juanita High School Cafeteria in Kirkland.
Sunday April 22, 1 p.m.: county conventions; the King County convention location is TBA.
June 16, all day: state convention in Wenatchee; additional committee meetings and convention activities will take place in Wenatchee on June 15, full schedule TBA.
The 2018 caucus cycle, unlike in presidential election years, will begin with legislative district caucuses, not precinct caucuses.
Where can I learn more?
You can review the 2018 Washington State Delegate Selection and Affirmative Action Plan, approved by the State Central Committee in 2017.
If you have questions about accessibility or need to request accommodations, contact our Caucus Events and Logistics Chair, Dave Williams.