45th District Democrats General Meeting
February 6, 2019 | 7:00 PM

-

9:00 PM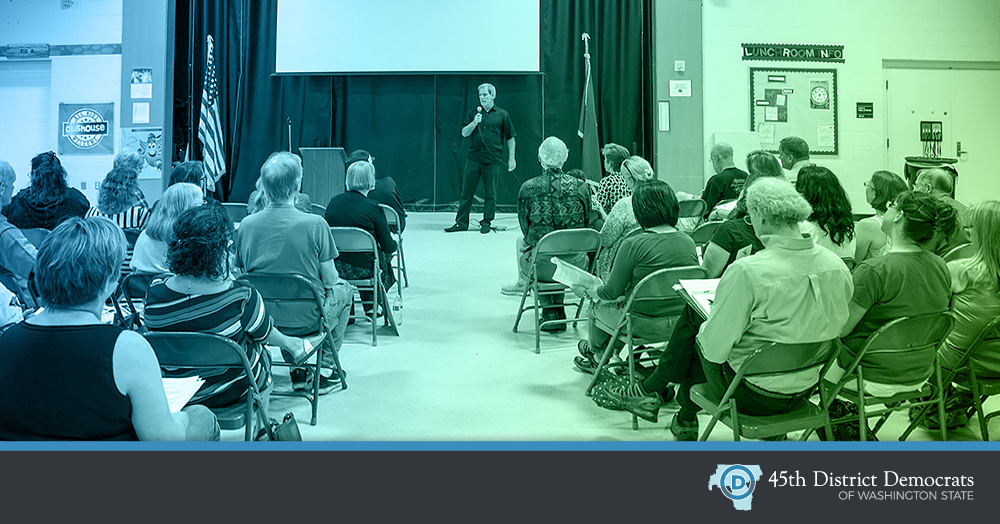 11:43 a.m., 2/6/2019: Winter weather notice: We WILL be holding our February meeting tonight!
WARNING ABOUT ROAD CONDITIONS:
ROADS WILL BE ICY tonight. If you have *any* concerns driving to tonight's meeting, please ERR ON THE SIDE OF CAUTION and stay off the roads. We'll see you at the next meeting!
We will try to keep the meeting short and livestream it on Facebook so you don't miss too much even if you decide to stay home.
The first Wednesday of every month, the 45th District Democrats meet to hear from candidates and elected officials, make endorsements, discuss state and local issues, and conduct Democratic Party business. Deviations from this schedule will be announced here, on our events calendar.
Membership meetings are open to the public. Children are welcome. We ask that members and guests of all ages step into the hall for side discussions and other noisy activities during meetings. We meet in the Horace Mann Elementary multipurpose room. Please do not enter the building before 6:30 p.m.
This month, we're going local, with a focus on municipal action and volunteer opportunities. Come see how you can make a difference in your city. Special guests include Redmond City Councilmember Angela Birney and Sammamish City Councilmember Jason Ritchie, plus representatives from Woodinville and Kirkland.
Join our email announcements list for the most up-to-date information on meeting agendas, special guests, volunteer opportunities, and other events.
Related Events