45th District Democrats General Meeting
April 1, 2020 | 7:00 PM

-

7:30 PM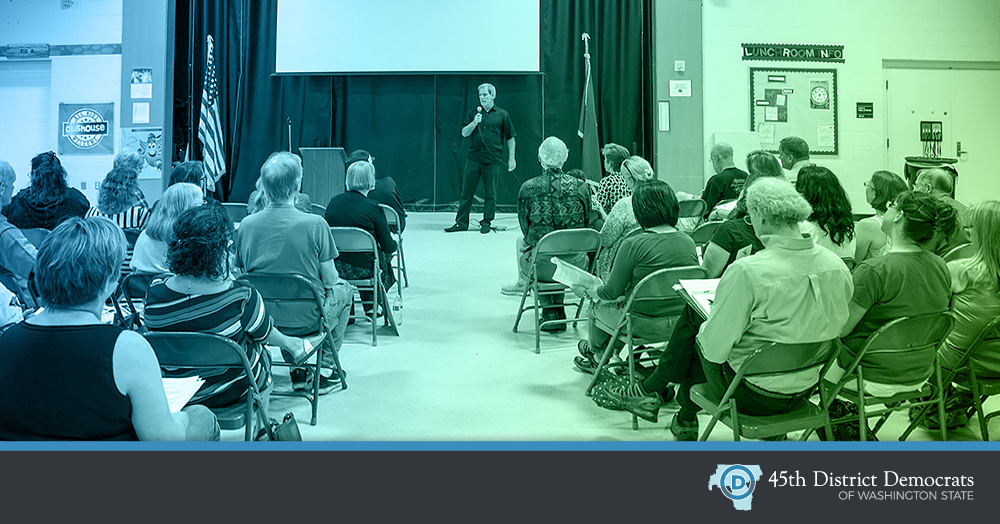 The first Wednesday of every month, the 45th District Democrats meet to hear from candidates and elected officials, make endorsements, discuss state and local issues, and conduct Democratic Party business. This month, due to the coronavirus pandemic, our meeting will look very different.

Our general meetings need to be conducted "virtually" until further notice.
However, our bylaws do not provide for virtual general meetings. So we need to amend them. How do we do that under current "physical distancing" and "stay at home" guidelines?
Creatively.
We need 16 PCO's to provide a quorum. We are asking for 25 PCO's to absolutely commit to being at the April 1st general meeting, to give us "buffer." Here's the plan:
The April 1st general meeting will be conducted in the parking lot of Redmond High School.
The sole item on the agenda will be a motion to amend our bylaws as per the full text below.
No one except the chair and two persons to be determined will leave their car.  (the "two persons" will make and second the motion)
There will be no more than one person in each car.
You'll be credentialed visually as you arrive, without rolling down the window and with no "sign in"; the secretary will record your presence.
You'll be directed to a spot in the parking lot and directed into a semi-circle.
The moment that we have 16 credentialed PCO's present, the chair will call the meeting to order by banging the gavel. The sight and/or sound of the gavel being banged shall call the meeting to order.
 A word-for word script will be followed and published shortly so that if you have trouble hearing with the windows of your car rolled up, you'll know the exact words being said.
 Presumably the motion will pass and everyone immediately disperse.
We can't and won't limit attendance to 25 PCO's, but when we've reached that goal we'll notify the Body that we need no further volunteers.
Please note that this plan was run past the Governor's Chief of Staff and approved, so long as no car has more than one person in it.
Join our email announcements list for the most up-to-date information on meeting agendas, special guests, volunteer opportunities, and other events.
Related Events