45th District Democrats General Meeting
July 11, 2018 | 7:00 PM

-

9:00 PM

Free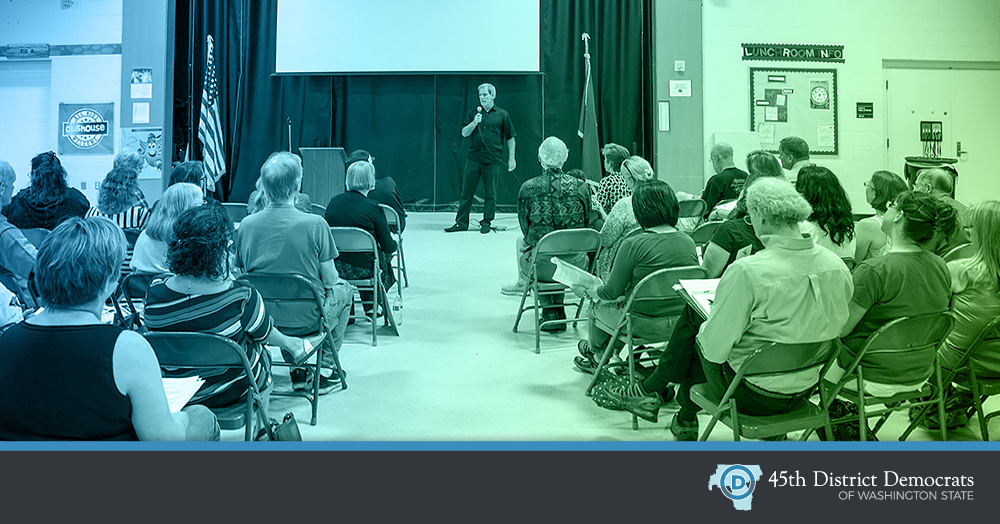 Almost every first Wednesday of every month, the 45th District Democrats meet to hear from candidates and elected officials, act on endorsement recommendations, discuss pending legislation and ballot measures, and conduct Democratic Party business. This month, we're featuring a mini Rise and Organize training for all of our potential activists and organizers out there! This will include PCO 101 and Minivan training.
*Because of Independence Day, this month's meeting is not at our usual time or place!* We are meeting at Emerald Heights in the Emerald Room. Browse the map of the Emerald Heights campus for more information.
This meeting is open to the public, but Emerald Heights is a gated retirement community—when you arrive, tell the community guard you're here for the 45th District Democrats meeting.
Guest parking at Emerald Heights is limited. For those who can walk, please park at the Redmond High School parking lot and enter through the north gate; please allow an extra 15 minutes for the half mile walk. We will also have a volunteer shuttling people from the high school to Emerald Heights before the meeting; look for the sandwich board. If those options will not work for you, you may drive into Emerald Heights and park by the main entrance.
Children are welcome. We ask that members and guests of all ages step into the hall for side discussions and other noisy activities during meetings.
Join our email announcements list for the most up-to-date information on meeting agendas, special guests, volunteer opportunities, and other events.
Related Events