45th District Democrats General Meeting
October 3, 2018 | 7:00 PM

-

9:00 PM

Free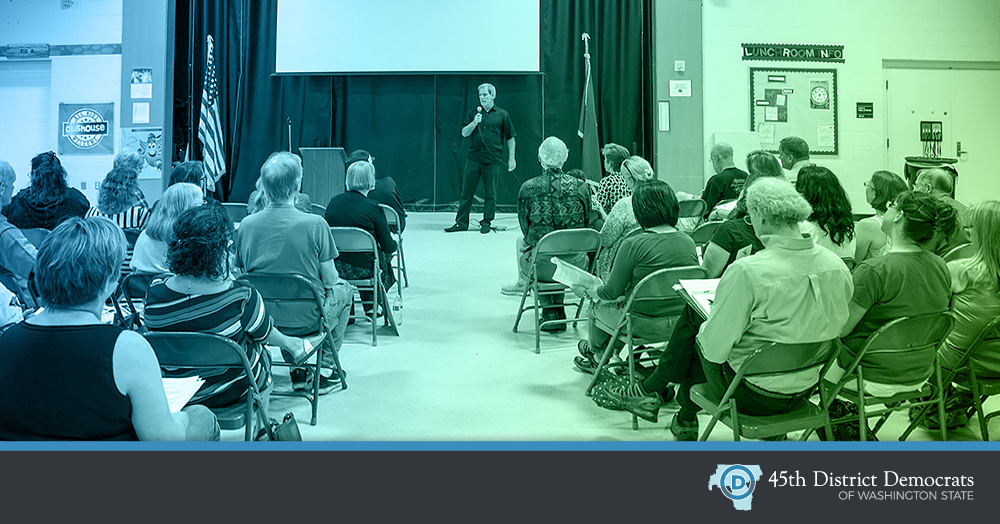 The first Wednesday of every month, the 45th District Democrats meet to hear from candidates and elected officials, act on endorsement recommendations, discuss pending legislation and ballot measures, and conduct Democratic Party business. Deviations from this schedule will be announced here, on our events calendar.
Membership meetings are open to the public. Children are welcome. We ask that members and guests of all ages step into the hall for side discussions and other noisy activities during meetings. We meet in the Horace Mann Elementary multipurpose room. Please do not enter the building before 6:30 p.m.
This month, we're excited to welcome Governor Inslee's chief of staff, David Postman. David will share the governor's legislative priorities, should Democrats win a supermajority in the state legislature; how our state can take action on climate change; and little-known opportunities to help shape the future of our state, including state-level boards and commissions. Plus, we'll have time for Q&A. 

We'll also have our endorsement guides available for volunteer pickup and distribution, we'll be electing a new King County Delegate Alternate (female), and we'll be voting on allocating additional funds for voter outreach. Learn more about the King County Delegate Alternate position. Plus: Jameson Doane, the senior state organizer for Wolf-PAC in Washington state, will join us to speak about the threat unaccountable money poses to the functioning of our democracy.
Join our email announcements list for the most up-to-date information on meeting agendas, special guests, volunteer opportunities, and other events.
Related Events